Also see this article:
WAS BARACK'S COMMUNIST MENTOR A SADO-MASOCHIST PEDOPHILE? - IS THIS THE OCTOBER SURPRISE? HILLARY STYLE?
http://www.rumormillnews.com/cgi-bin/forum.cgi?noframes;read=134117
Obama's grandmother is the only person alive who knows about Barack's connection with Frank Marshall Davis.

I suspect that we will soon hear the very sad news that Barack's dearly loved grandmother has passed away from her grave and sudden illness.
Two days ago I posted a link to a video of a black minister railing against Barack Obama.
UNBELIEVEABLE 22 MINUTE VIDEO BY BLACK MINISTER
http://www.rumormillnews.com/cgi-bin/forum.cgi?noframes;read=134038
I pulled out a number of the things he said in the video and posted them in the article you will find at the above link... Here is one of the things I included:
"He asks why Barack's grandmother never shows up at any of Barack's meetings."
The minister wonders why Obama's grandmother has never been seen at any of Obama's meetings.
STANLEY ANN DUNHAM AND HER PARENTS, STANLEY AND MADELYN DUNHAM…BARACK OBAMA'S MOTHER AND GRANDPARENTS.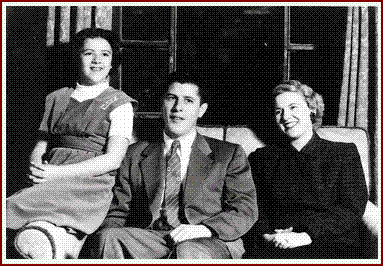 At his high school graduation, Barack Obama gets a hug from his grandmother Madelyn as his grandfather Stanley beams. His maternal grandparents raised Obama in Hawaii while his mother was living in Indonesia.
(Photo courtesy of Maya Soetoro-Ng)Mar 23, 2007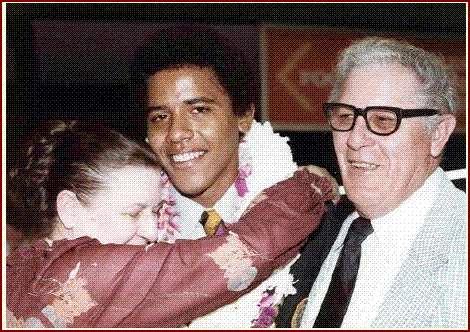 From Roots Web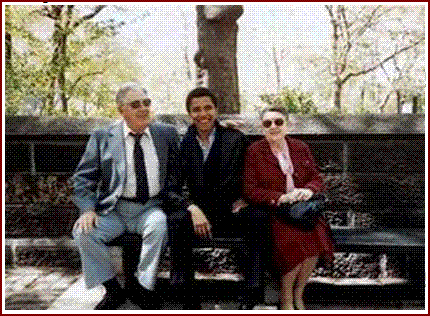 Barack's grandmother looks like a very sweet woman. One that he should have been proud to have at his meetings. Why was she excluded? Health reasons? Or for fear that she would say the wrong thing at the wrong time.
Today we find out that Barack is taking a few days off to fly to Hawaii to attend to his ailing grandmother in Honolulu. According to the article linked below, she is suddenly gravely ill.
Right after I posted the video and the minister's comments about Barack's grandmother, Rumor Mill News was thrown off the internet for 12 hours. Shortly afterwards we were thrown off for another 5 hours.
It couldn't possibly have anything to do with the publicity we gave the video about Obama's grandmother.... nah...
You can read the AP article about Madelyn Dunham on NEWSMEAT... (don't you just LUV that name?)
Is there another reason that I am pointing out the fact that Obama has never had his grandmother at one of his meetings... and NOW... suddenly she is gravely ill?
One of Obama's grandfather's best friends was a black poet named Frank Marshall Davis. David was a black poet, newspaperman and writer who spent a lot of time in Chicago before moving to Hawaii. According to Obama, Davis was a mentor to him.
Why should this bother anyone?
In his biography of Barack Obama, David Mendell writes about Obama's life as a "secret smoker" and how he "went to great lengths to conceal the habit." But what about Obama's secret political life? It turns out that Obama's childhood mentor, Frank Marshall Davis, was a communist.

snip

through Frank Marshall Davis, Obama had an admitted relationship with someone who was publicly identified as a member of the Communist Party USA (CPUSA). The record shows that Obama was in Hawaii from 1971-1979, where, at some point in time, he developed a close relationship, almost like a son, with Davis, listening to his "poetry" and getting advice on his career path. But Obama, in his book, Dreams From My Father, refers to him repeatedly as just "Frank."

The reason is apparent: Davis was a known communist who belonged to a party subservient to the Soviet Union. In fact, the 1951 report of the Commission on Subversive Activities to the Legislature of the Territory of Hawaii identified him as a CPUSA member. What's more, anti-communist congressional committees, including the House Un-American Activities Committee (HUAC), accused Davis of involvement in several communist-front organizations.
The above snip is from Accuracy in Media
Obama's grandmother is the only person alive who knows about Barack's connection with Frank Marshall Davis.
I suspect that we will soon hear the very sad news that Barack's dearly loved grandmother has passed away from her grave and sudden illness.
His father. mother and grandfather are dead. I think his stepfather is dead also. He has a half sister and a grandmother. Soon he will no longer have a grandmother. His half sister is part of his campaign. I don't think they were raised together, therefore I doubt if she knows anything about him as a youth. She was raised in Malaysia with their mother and her father. He spent most of his life in Hawaii.
It should be noted that as soon as some Presidents enter office, one of their loved ones dies. It was Nancy Reagan's father. It was Bill Clinton's mother. I have always felt that this was done to let them know that they are NOT powerful, they are NOT important... they are just actors playing a role... and OTHER people will be pulling the strings.
Here's some more information about Frank Marshall Davis. BTW... he is also dead.
From Wikipedia:http://en.wikipedia.org/wiki/Frank_Marshall_Davis
In 1935, Davis moved back to Chicago to take the position of managing editor of the Associated Negro Press[8], a news service for black newspapers, which had begun in 1919. Eventually, Davis was named executive editor for the ANP. He held the position until 1947.
During the Depression, Davis participated in the federal Works Progress Administration Writers' Project. In 1937, he received a Julius Rosenwald Fellowship.[9]
While in Chicago, Davis also started a photography club, worked for numerous political parties, and participated in the League of American Writers. With the encouragement of authors such as Richard Wright and Margaret Walker, Davis published in 1948 his most ambitious collection of poems, entitled 47th Street: Poems, which chronicles the varied life on Chicago's South Side.
Davis used his newspaper platform to call for integration of the sports world, and he began to engage himself with community organizing efforts, starting a Chicago labor newspaper, The Star, toward the end of World War II. In 1945, he taught one of the first jazz history courses in the United States, at the Abraham Lincoln School[10] in Chicago.
In 1948, Davis and his second wife, who had married in 1946, moved to Honolulu, Hawaii, at the suggestion of Davis's friend Paul Robeson. There, Davis operated a small wholesale paper business, Oahu Papers, which mysteriously burned to the ground in March 1951. In 1959, he started another similar firm, the Paradise Paper Company.
He also wrote a weekly column, styled "Frank-ly Speaking," for the Honolulu Record, a labor paper published by the International Longshore and Warehouse Union (ILWU), headed by Harry Bridges. The paper had been founded in 1948 by Koji Ariyoshi. As editor, Arioyshi lambasted labor conditions for the working class, advocated the overthrow of the Hawaiian monarchy and targeted other social inequalities in the islands. In 1958, Ariyoshi was forced to close his newspaper due to lack of funds.
Davis's early columns covered labor issues, but he broadened his scope to write about cultural and political issues, especially racism. He also included the history of blues and jazz in his columns.
In 1950, the congressional House Un-American Activities Committee accused Davis of involvement in several communist-front organizations. The committee concluded that the Honolulu Record was "a front for the Communist Party, despite the fact that the paper does not make this admission."[1] The committee's report on the Honolulu Record states the following about Davis:
Mr. Davis' column defends Communists and attacks capitalism with the same vigor as columns appearing regularly in the Daily Worker and other frankly Communist publications. Typical of Mr. Davis' remarks are the following:
"Democracy today lies weak and slowly dying from the poison administered by the divident doctors in Washington and Wall Street who have fooled a trusting public into believing that they are the specialists who would save us from the dread diseases of socialism and communism. . . . They hope to hand us fascism disguised as the healed democracy." (Honolulu Record, July 28, 1949, p. 8).
Mr. Davis constantly defended the 11 top United States Communist officials recently convicted in New York on charges of conspiracy to advocate the overthrow of the Government by force and violence. One of Mr. Davis' comments on the case was as follows :
"I feel strong sympathy for the Communist minority who are being oppressed for their political beliefs." (Honolulu Record, October 20, 1949, p. 6).
When Mr. Davis' column first appeared in the Record in May 1949, the Record boasted that the author was a member of the national executive board of the Civil Rights Congress. The organization is cited as Communist by Attorney General Tom Clark as well as by the Committee on Un-American Activities. Mr. Davis has signed a number of statements in behalf of Communists under the sponsorship of the Civil Rights Congress; one of these defended was Gerhart Eisler, notorious Communist international agent who escaped jailing for passport fraud by fleeing to the Soviet sector of Germany.
Other front organizations of the Communist Party with which Mr. Davis has associated include : American Youth for Democracy, Abraham Lincoln School, National Federation for Constitutional Liberties, League of American Writers, the National Negro Congress, and the Hawaii Civil Liberties Committee.[1]
Because he published little poetry between 1948 and his final volume, Awakening, and Other Poems, published in 1978, Davis's reputation as a poet diminished, but he was rediscovered during the Black Arts Movement in the 1960s.
He visited Howard University in Washington, D.C., to give a poetry reading in 1973, marking the first time he had seen the U.S. mainland in 25 years. His work began to appear in anthologies.
Livin' the Blues: Memories of a Black Journalist and Poet (1992), Black Moods: Collected Poems (2002), and Writings of Frank Marshall Davis: A Voice of the Black Press (2007) were published posthumously.
In 1946, Davis married Helen Canfield, a white Chicago socialite, who was 19 years his junior. The couple divorced in 1970, and Canfield Davis herself died in May 1998 in Honolulu.[11] The couple had five children, four girls and a boy.

HAWAIIAN WEBPAGE ABOUT OBAMA'S GRANDMOTHER

DID BARACK OBAMA MOVE TO CHICAGO BECAUSE OF THE INFLUENCE OF HIS COMMUNIST MENTOR?

WAS BARACK'S COMMUNIST MENTOR A SADO-MASOCHIST PEDOPHILE? - IS THIS THE OCTOBER SURPRISE? HILLARY STYLE?

DON'T GET CAUGHT IN THE SEX - IT'S THE MIND CONTROL PART THAT'S IMPORTANT

LINK TO SEX REBEL, WRITTEN BY "FRANK" - OBAMA'S 'FATHER-FIGURE' - GRAPHIC

OBAMA IS BEING BLACKMAILED TO RETURN TO THE SCENE OF THE CRIME

WAS A COMMUNIST OBAMA'S SEX TEACHER & PEDOPHILE PERVERT, PORNOGRAPHER AND MENTOR?

HUFFINGTON POST: FRANK MARSHALL DAVIS AND THE DECEPTION OF PORNOGRAPHY

FLASHBACK:IS OBAMA CONNECTED TO A CHRISTIAN YOUTH MIND CONTROL OPERATION?

FLASHBACK: IS OBAMA A "SOCIALIST" --- OR WORSE ???

REPOST: READER ASKS IF OBAMA COULD HAVE BEEN BRAINWASHED DURING HIS DETAINMENT

THE REAL REASON OBAMA IS GOING TO HAWAII